Announcement
Posted by
Jeff Pierce
on May 04 2019 at 05:00PM PDT in 2019 Spring/Summer
More editing options
President's Week 1 Rankings (through 4/28/19)
Trying to sort things out after just 11 games played and 9 games postponed. I am going to start out "somewhat" kind because all the coaches have been so agreeable so far despite all of postponements and extra field work.
Mariners (2-0-1) -- There is no way the M's weren't going to be #1, not only because of their record but to show what a sandbagger Costa is. Three years of "woe is me" is getting old, though in '17 they did stink :) Costa wears you down and eventually you just surrender. I am pretty sure his wife didn't want to marry him and his boss didn't want to hire him but at some point it's not worth listening to the relentless begging. OK the "somewhat kind" is already out the window. He needed a complement to Vedder on the mound and with DeCourcey and McGilvray each with some nice pitching over the weekend things are coming together. The Costa that everyone roots for "Ben" had a big weekend at the plate with 6 hits, 8 RBI. (Footnote: As further proof before I got these posted Costa actually called me to ask that I don't rate them #1 "we aren't that good."

Royals (1-0) -- Just a one-game sample but a big early-season win versus the Astros, which isn't a team you want to open with. Or maybe it is a good time to get the Astros before they figure out what they have. The Royals look like the team "we thought they were" with deep pitching and a versatile 14-year-old class. Breaking news is that Micciche is out for 3-4 weeks (maybe longer) that will hurt them sooner or later.

Phillies (2-0) -- The influence of Jack Webster (seen helping out Tom) looked evident this week with two pitchers virtually going the whole game (Raimo: 7 IP no-hitter, 13 K's and Gallegos 6.1 IP). Jack made his RBRL career out of stretching out pitchers. Just recently '12 grad Patrick McDonald regained full motion in his arm. Having Jack in the League again just brought ratings up for this column with unlimited material at my beckon call. The Phils were my underdog team this year and so far I am looking good. Pitching goes 5 deep with Gualtieri, Benjamin and Yianni still not needed yet. I like the vibe on the Phils hard not rooting for them.

Marlins (2-1) -- Not worried about an early slip-up versus the Bucs. And though the Marlins are "my team," (not something you want to be called) I am always happy for the Pirates, who will be a tough out this year. The Marlins may end up being like this year's Celtics, once the playoffs come they will be ready and be strong. I am going to be super easy on Josh until the playoffs start so Josh tell the team to relax, no barbs coming from this space.

Angels (0-0-2) -- I don't know what to make of the "favored" franchise after seeing them in person. They lost some swagger with last year's grads leaving (but the coaches also got some brain cells and their hair back I am sure). Still played a couple of grinding, tense games in extra innings against good teams. Will see if the leadership vacuum can be filled. Just an observation that Johnny Tighe is really good. The gene pool is very strong there, you think that it was a fluke that the two older brothers were stars/studs in the League! All other managers you have to put that into the formula, throw out the numbers!



Too early: Cubs

Not worried: Astros

A little bit worried: Athletics

Will be fine: Padres, Pirates

Look out 2020-21: White Sox
President's Pre-Season Rankings:
Coming off the dead-on prediction last year of an Angels championship some pressure may be off me this year. But for respectability purposes I must get at least one of the League champs correct in what is lining up to be a competitive year with a lot of teams in the mix.

I will be looking for some new foils this year with Kevin McCadden and Pat Barbera moving on, and the Chuck, Steve and Roy treatment getting old (but still appropriate) .

On alert: Gorski, Costa, Picano. Fair-Headed Boys: Blumenshine, Beneke. Jack Webster Treatment: Algeri, Robinson, Sletterink. TBD: Gualtieri, VanderZouwen, Walsh.
Marlins: Years of playing chess while others were playing checkers should pay off for Josh, who continues to look beyond the "best available player" methodology. His golden 2017 draft turns 15 this year and despite having one of that class plucked from him in the expansion draft that only reduced his odds by a hair. And I may add he took it like a man, "no whining" (thus the "fair-headed boys" designation). Looking at Walshie (a favorite here) in the pre-season he grew into two Walshie's. I just hope he didn't lose his edge, like when he stared down Craven in the WS after hitting him with a pitch and then kept trying to pick the runner off third base from the catchers box even after Josh pleaded with him to stop. Losing Kerr will hurt his pitching which is the only ? with the team and history says that the teams with set 3-man rotations win championships, they don't need to be dominant just reliable. The Marlins were also bestowed with the prestigious Cumby's sponsorship so a lot of confidence and good vibes being sent their way from the Prez.

Astros: The Astros (NL) became the Giants (NL) and now back to the Astros but this time in the always loaded AL. The Giants never wore well with the players who continued to use "Astros" in their cheers in direct slap at the Prez. So the players union won. It seems every year I look at Chuck's roster and think "dominant," he always has a big strong team but they just have one WS appearance (loss) in his 8-year reign. I can never say that Chuck lets me down (except prediction wise) because he is the No. 1 team player when it comes to the league and running the dreaded (by me) summer program. With the School Committee election I expect Chuck will be 100% focused on his team and not drumming up another override. He couldn't win it all with Corey DiLoreto or the Marshall twins, let's see if Jackie Malley can beat all of the boys who couldn't bring it home for Chuck.

Royals: Loaded with the most returning players (albeit from a 4-win team), when the Royals are good it's good for the League. Positive publicity usually follows through the DTC twitter feed and I can get Algeri to do the WS write-ups are big pluses for me. And it never hurts to have the coach less cantankerous and you notice that I just used the term "less' because there is always going to be some. Now in his 9th season, and possibly his RBRL managerial swan song, I expect Algeri will have game strategies even more abundant and peculiar than ever. He even has figured out that his team plays better at 11:30 a.m. than 2:30 p..m (straight inside joke that all won't appreciate). As long as he doesn't put his team in the handshake line two innings early because "we have had enough baseball," I am all in on the Royal experience. I expect one or two of the 15's (think Murray, Alexander or Micciche) will have a breakout year and there is a good amount of "deep depth" on this team. Arms will be abundant and a difference maker.

Angels: The defending champs still look strong with a good draft and their pitching pretty much intact. The Angels by chance are the only team that did not lose a player in the expansion draft and all of the Angel players can be thankful that they will not lose out on those life lessons from experiencing the "Angels Way!" Coach Richie Bradley retired, an American classic, the Angels bench will feel the void and the sight of the coach peddling back home on his bicycle something you will never see a player do anymore (old man commentary). How much effect he had on the Angel winning we will see, he certainly was a good balance to the stress level at the field. The Angels are the "America's team" of RBRL, the league standard bearer, complete with after-game baked goods, camouflage hats and long postgame speeches. Even after last year's championship win Roy kept his team on the field for 30 minutes, and it got so somber that I felt like comforting the players and saying "tough loss, sorry." Will WS heroes Champa and Merkle be able to keep their quiet unassuming innocent demeanors that worked so well last season? Don't disappoint me boys. Will the Angels be able to move past the Steven Webb era and show? The team certainly won't be as handsome without him displaying his coiffed hair after every pitch.

Cubs: Chris Beneke hit the lottery in our first expansion draft. The ping pong balls went his way in pulling off an instant title contender out of a hat. He went from trying to bag out of the expansion franchise at the start of draft night to asking what the dates of the World Series games were going to be at the end of the night. In order to help Chris out for volunteering to coach an expansion team we froze the ping pong ball with Matt Ronayne's number on it and the rest is history (thank you for the idea David Stern). Beneke the wannabe GM took his first RBRL draft seriously, trading draft pick positions (ala Belichick) in several rounds so he could seemingly end up with a kid named Fusco that suspiciously was the only kid that wasn't on the pre-draft rankings sheet. It was vintage Algeri with the hurt arm of Tommy White in 2011 or John Macaluso with the "Ryan Wynns is only playing AAU" in 2010. Not many holes on this team but they have a "Marlins problem".

Athletics: Another stacked veteran team with no apparent weaknesses. I am only pushing them down due to the manager being new to the RBRL experience (and wily trickery of some of the long timers). Still Jonathan Gorski broke through to the WS in his first year (Heithaus says hello). Not one of the bigger teams size wise but talented and is there a better player to watch then Ben Wright I think not. This comment is directed to Nick Figueroa (Liitle Fig), I expect you to be one of the most dominant players in the league this year let's see it son! Mark Vander Zouwen looks like a good addition to the league (embracing the experience), the Georgia boy gives us some character I am tired of the Boston accents and mostly the Southeastern Mass accent.

Phillies: The team most likely to make me look like an ass (or more of an ass). The Phils have a lot of above average talent but their only drawback is a good but small (2) fifteen year old class. I thought Andrikopoulos was as a good of a 13 year old as I saw last year so high expectations for him. Pitchers like Gallegos and Raimo are going to take a big step forward this year. I like Coach Gualtieri's draft day spin when he said "I think I had the best middle to end of the draft than anyone." Hey, it has got the Patriots 6 rings so who am I to mock?
Now all the guys who downplayed their teams to get a higher pick:

Mariners: I won't be shocked if Costa sandbagged for the third straight year and Mariners finish higher.

Pirates: Not many coaches put together a 5-yr. plan for a 3-yr. player RBRL career span. "It's a bold strategy, Cotton. Let's see if it pays off for 'em. "

Padres: Major rebuild for Coach Gorski, sorry about Ronayne.

White Sox: Going to surprise by end of the year.
AL FINAL: Royals over Astros
NL FINAL: Marlins over Phillies
WORLD SERIES: Marlins, 2 games to 0
Angels win first RBRL World Series since 2006
By Jeff Pierce, RBRL President
The 2018 RBRL World Series came to an exciting and pressure-packed ending on Thursday evening, June 14 before a large crowd at Morton Field.The Angels prevailed, 3-2, in the third-and-deciding game of the best-of-3 World Series in a tightly- and quickly-played contest to give coach Roy Sletterink his first championship in his 7-year coaching tenure and the second in franchise history (2006).
If the fans came down to the ballpark to see fireworks at the plate they would have been sorely disappointed as the two teams combined for just five hits in Game 3. For the three-game set the Padres only had four (after being no-hit in Game 2).Instead this World Series was highlighted by two strong pitching staffs and, except for Game 2's aberration, superb defense all over the field, to the delight of the League Officials.
*** President's Playoff Preview and Final Rankings ***
1. Athletics (11-4-2): In a year where you could throw a net around the top few teams someone had to be anointed #1 so it's the A's as the AL regular-season champ that was decided by the second tiebreaker (better division record). An A+ pitching team with average hitting, Kevin usually pulls the right levers when it counts in the summer, so let's see if he can do it in the spring. "Six, Two and Even" that they make it to the World Series (look that one up!).
2. Angels (11-4-2): Lost to the A's on Thursday with a chance to clinch the #1 seed. I really expected much more of the Halos this year but the consistency has not been there and Roy has had to rely on young arms to carry them at times. Now they will be in a brutal 2/3 matchup with the "15-year-old heavy" Mariners in the AL semis which may make for a quick exit. Still the prototype on how a team should be run with A+ player experience.
3. Mariners (11-5-1): Be careful what you wish for as Costa scrambled to get that make-up game played on Sunday night with the White Sox in hopes of usurping the 1-seed from the A's -- only to lose. The expression "you are your father's son" applies here with the coach/team personality dynamic. Win or lose they are going to get the better of you in the verbal wars. Been a 10-year gap for this franchise since its last World Series. Only the Athletics is longer (14 years).
4. Marlins (11-6): They had the biggest run-differential in the league going into this weekend (thanks to 6 games with the Bucs and Phils/+53) and just got back 15-year-old Jack Blumenshine who has been out most of the year. They can crush it at the plate, have few holes in the lineup and the pitching is solid -- yet not upper-echelon. Josh proves nice guys can finish first.
5. Giants (10-5-1): "Disappointment thy name is Chuck." You would almost have to throwing games purposely to have this record with this lineup. I have seen them play 5 times just to be triple-sure that they weren't. Time to get serious boys, the Prez doesn't like to look bad (see pre-season prediction).
Long shots: White Sox (6-10-1) have a few players that can put a team on their back. Padres (9-8) have a puncher's chance with their pitching staff and defense.
AL Final: Sticking with the Angels over Athletics.
NL Final: Marlins shade the Giants for a repeat trip to World Series.
World Series: "Well deserved Angels" 2 games to 1.
President's Pre-season Predictions:
AL Final : Angels over White Sox
NL Final: Giants over Philles
World Series: Angels over Giants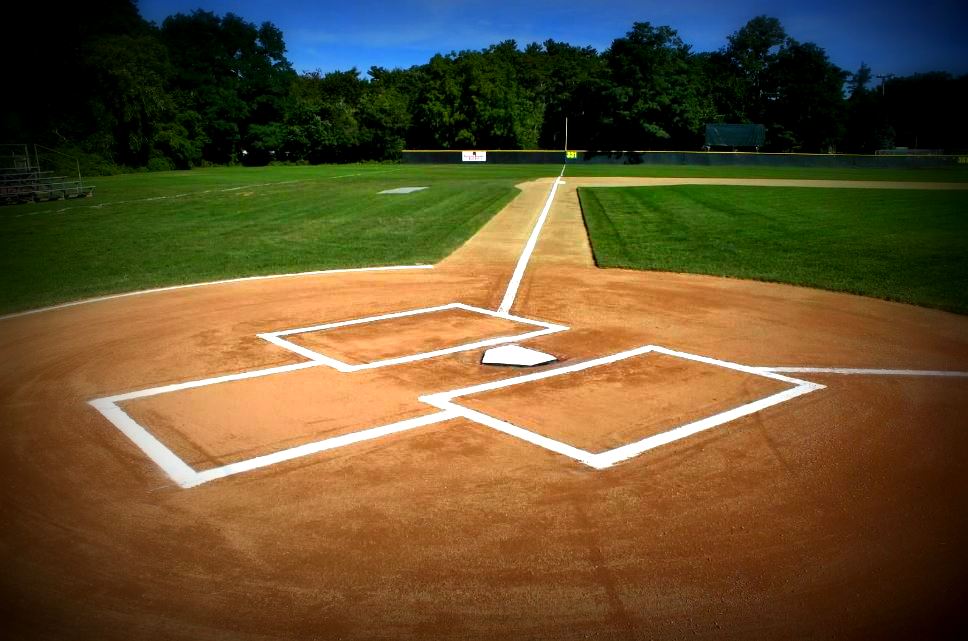 Comments
There are no comments for this announcement.